Interview with Sukanto Debnath, animator & concept artist.
Sukanto Debnath is an exceptionally skilled draftsman who has been working in the animation industry for about a decade now as a concept artist. Sukanto studied in Santiniketan (1995-2000) before leaving for Hyderabad to begin a career in animation & over the years did his bit in the gradual emergence of Indian animation. In this interview, he talks about animation & his recent animated Feluda series for DQ Entertainment International Ltd. Apart from character designs & the look-n-feel development, Sukanto also makes his debut as an animation director with Feluda's The Kathmandu Caper, to be broadcast by the Disney Channel in India soon.
Sukanto, tell us something about your background & how did you enter animation?
I was always fond of drawing and cartooning. Naturally it led me to an art college. But I never got around to watch much of animation. Growing up, I remember, we didn't have a television set and we used to go to the neighbors' to watch TV. And they never watched animation. I was already in the art college in Santiniketan when I first saw a feature-length animated film. It was Disney's Lion King. I loved it then, and I guess the process started somewhere at the back of my mind. After graduation – that was year 2000 – I was still unsure whether to pursue fine-arts & academics further or switch to animation. While visiting one of the animation studios in Hyderabad I met Jeetu Patel, a veteran in the field, who encouraged me to join the studio as a trainee…which I did. But before long I was offered a better deal in another studio & immediately I was sent to Chennai for training! There I was straightaway given an assignment, and working is learning. So it just happened suddenly. Then I joined DQ Entertainment International (formerly known as Dataquest), and I've been working there since. But I must mention this: I learned my animation basics from Preston Blair's book on animation basics. And I would recommend this to any aspiring animator!

But come to think of it, it was much easier back then to get a break, like I did. Nowadays the companies are less open because of HR-set-policies; especially the larger ones, where you have to pay to get trained. And you are most likely to be interviewed by an HR than an artist.
What are the main challenges, according to you, a concept artist faces working in an industry?
Many challenges, but deadlines are what come to my mind first! But seriously, a concept artist is also the one who holds the pencil first, it's all pen before that. Whatever developments or illustrations are required to help visualize a project usually start on his desk on a blank paper. He is the one to explore all the visual possibilities to convey ideas and the look-&-feel of a project. We often start before the writer has developed the story fully. So often you have little to work on, but your ideas in turn can give shape & direction to many aspects of the project, and the writer might even pick a clue from your work and build upon it.
Another aspect of the job is to develop designs that are animatable & production-friendly (so a concept artist must have a thorough knowledge of the entire production process). On a tight budget & a tight schedule, you are forced to shed details to ensure an easier & faster production process. So a fantastic monster with a hundred tentacles might not be the best idea if it's a 2D animation for the television – things like that.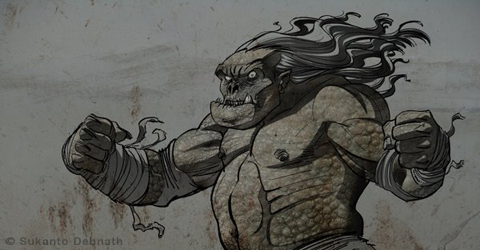 Then, in India, often a wide range of services are expected of you. The production houses often work with partners like co-producers or distributors. For each project we have to make a little booklet (we call it a "pitch bible") – that includes concept arts & early developments with brief outlines of the story, its nature, marketing details and even merchandising possibilities etc, all meant to convey the prospects of the feature/series. Some partners even view projects as promotional vehicles for their products!…like kids' accessories, for example! And the concept artist can't ignore that either. His designs must be serviceable for them as well. So I guess there are different kinds of challenges: some very rewarding and some not so.
How do you start working on a project? Is there a fixed way you go about it?
Not really, I don't have any absolutely fixed way to go about anything. But I do have a preferred workflow. Of course you study the material first. For characters, I might start with the face. Sometimes I may browse through portraits (photographs). Sometimes I may start doodling with a vague idea till it clears up.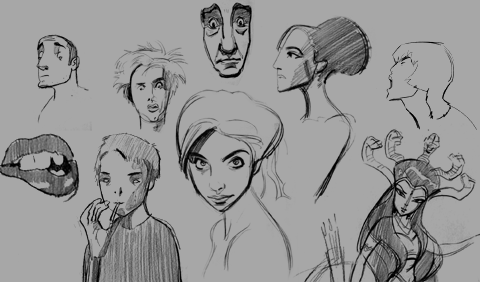 Faces by Sukanto Debnath
I may start with silhouettes if some character has a prominent physical attribute. If there's a hint of behavioral traits, I might start with postures. When designing animal characters I usually prefer to study references before anything else. But you never know what will suddenly inspire you.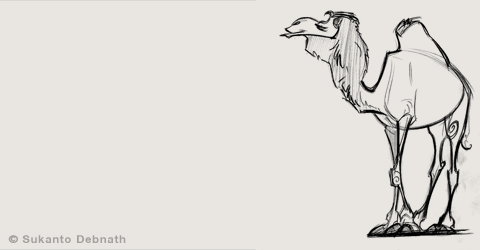 For designing a set or impressions I am generally more experimental…may be because I get to do that less often. Since I also love photography, I try to use it too…like for an alien landscape, say, I may take pictures of objects & modify them unrecognizably. Veins on leaves or circuit boards, old and broken wrist watches…can look so different if blown up.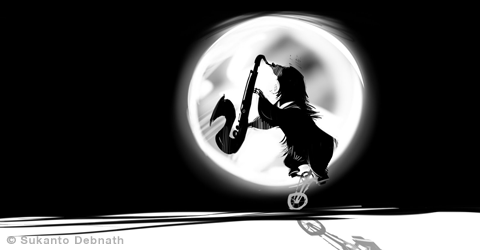 In terms of media, I may start with pencil sketches or even directly on my Cintiq (tablet). Software applications I use most are Photoshop, Corel Painter and Sketchbook Pro.
You are mainly a pre-production artist. How do you see your role in an entire production?
Preproduction materials can be used or referred to through out the production. But once I am through with them, unless there's some doubt or special requirement I may not be needed anymore. From time to time someone may seek your opinion…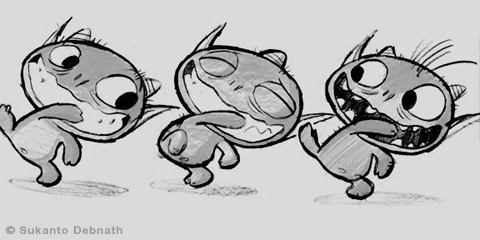 And how much can end results differ from your vision?
They do differ. I have learned to digest that fact by now. Though it should be the opposite ideally, they should look better than where I started…but I am not always that lucky I guess.
Care to talk about any recent projects you have done?
The Jungle Book (in 3D) among others. Also, just completed Feluda (in 2D), which I directed too, apart from designing.
We are particularly interested in your Feluda project…
It was great working on Feluda, as you can understand. We all love Feluda and his creator, Satyajit Ray, and it made me a little nervous too. I will not comment about the quality. Viewers and time will tell. But I can definitely share a few lines.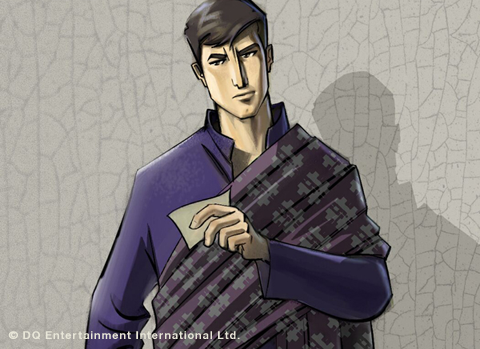 Re-designing Feluda. Image courtesy DQ Entertainment International Ltd.
We started working on the developments of Feluda long back. When our boss, Mr Tapaas Chakravarty, first expressed his desire to adapt Feluda I was really excited; because everybody else was pretty comfortable doing mythologies on television, and with good TRP too. But this was a genre that has never ever been tried in Indian animation…strangely. Anyway, I developed the project with its "pitch bible" & the broadcasters' reactions were very positive, maybe due to the Satyajit Ray connection. We even started doing it in 3D, but suddenly one day a fire broke out in the office & destroyed the whole room where 3D modelers sat. Luckily, my computer with all the initial development materials survived. It slowed us down briefly & we decided to go back to 2D animation.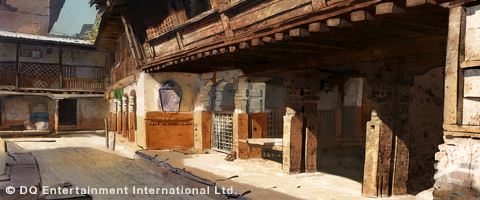 Background details for The Kathmandu Caper. Image courtesy DQ Entertainment International Ltd.
By the way, this story The Kathmandu Caper is really very loosely based on Jato Kando Kathmandu-te. It has been adapted by Charles Hodges, a British screen writer. Music was done in Ireland completely along with the voice dubbing for English.
Did Satyajit Ray's illustrations & films (of Feluda) in anyway offer any starting point for your exploration?
Of course they did. When it was finally decided that Feluda is going to be in 2D, I was happy, since in 2D one can try to retain the flavor of those masterful b&w illustrations of Ray. Earlier in 3D we had tried some toon shading techniques to have black contour lines on 3D models but it didn't look that great. Finally we finished the animation in 2D with few 3D props.

Feluda: Expressions. Image courtesy DQ Entertainment International Ltd.
The main animation, in first take for 60 minutes, we finished in less than two months. Which was pretty fast, all the boys worked really hard.
From the promotional materials we understand that Feluda, & Topshe in particular, have undergone some changes. We believe you were insisted to tweak the scheme a bit. The whole setting appears to have been given a new uber-urban facelift: could you possibly shed some light on these changes?
Yes…that's true. We didn't want to make a period film. This story takes place in 21st Century, in modern India/Nepal. Story itself is adapted very differently. Here it is relevant to mention that Feluda is going to be dubbed in all the regional languages, except in Bengali. We do not have the rights. So it is aimed at children, who might have not seen or read Feluda before. And today's kids are most likely to expect a detective to have at least a mobile phone, fast car or laptop.
Feluda & Topshe. Image courtesy DQ Entertainment International Ltd.
We all were comfortable with Haripada and Jatayu's green Ambassador, but when Charles wrote 4X SUV for Feluda, we thought, why not? And Topshe sure was deliberately made to look an uber-urban teenager, keeping the expected viewers in mind. And now he has a knack for gadgets to boot.
Though understandably these changes are targeted for a pan-Indian young urban audience, are you nervous that the Bengalis don't always like to see their icons being tampered with?
A little… yes, to be honest! But I also believe that this fantastic trio – Feluda, Topshe and Jatayu – should be popularized. The TV series with Shashi Kapoor and Mohan Agashe is not forgotten but nothing much has happened after that for long time. I am sure many people have thought of trying them. But if we only hesitate, we end up doing nothing. DQ has at least tried, thanks to Mr. Tapaas Chakravarty and Sandip Ray.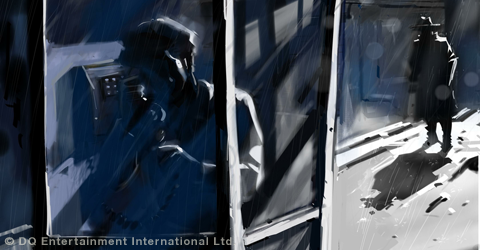 An early sketch for The Kathmandu Caper, by Sukanto Debnath. Image courtesy DQ Entertainment International Ltd.
If we are well received, nothing like it! If not, I'm sure the fans will forgive us considering the fact that it was our first attempt. It can only get better from here. Getting criticized is also good, I'll at least know that cartoons are taken more seriously here than I think it is and we did something worth criticizing!
Could you possibly tell us something about the new Jatayu & explain how you developed this character for the series?
Whenever I hear the name Jatayu, Santosh Dutta (who played Jatayu in the two Feluda movies by Ray) springs to mind, instantly. While designing I could never think of any other face even if I tried. But I had to – for crossover business it was insisted that characters look more global or generic. So I was suggested to build on someone like Danny De Vitto instead. I did, but I was happier with the one modeled after Santosh Dutta. Luckily Disney liked it too. Even Sandip Ray liked that design very much, I was told.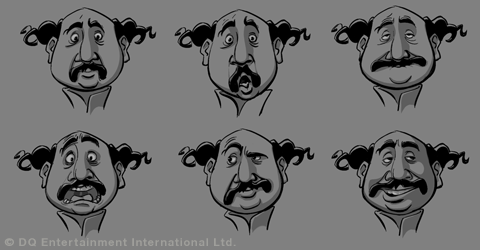 Jatayu: Expressions. Image courtesy DQ Entertainment International Ltd.
One more thing I can share: it was initially difficult to convince everybody how important Jatayu is in the whole scheme, as some believed only Topshe and Feluda would suffice! But Jatayu makes Feluda stories so different from others. It took some time for everybody to be convinced. It's then that I realized that it's actually not very easy to explain the magic of Jatayu to someone who doesn't understand Bengali.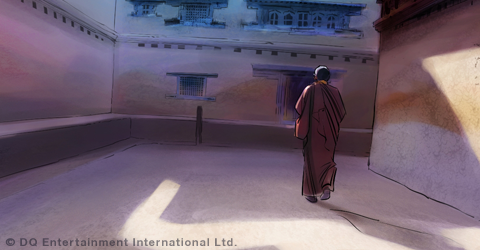 From The Kathmandu Caper. Image courtesy DQ Entertainment International Ltd.
Can you share with us anything that impressed or inspired you recently? Any other sources of inspiration apart from animation?
Movies inspire me. I try to watch a lot of movies.
How do you evaluate the animation scenario in India vis-à-vis animation powerhouses like United States or Japan?
India has only recently started doing content creation and home production. Before that it was mainly outsourcing. So it may be a little early to compare. But, yes it's a question that we also ask ourselves very often. Few animators, from time to time, try to create an Indian style, using typical Indian (folk or miniature inspired) motifs mostly. Few of them are exploring, few deliberately forcing an Indian-ness. Most of them are shorts. Shorts are generally more experimental. And since we here don't exactly work for accolades, we are happy to sell entertainment only. And in India cartoon lovers are rarely more than eleven years old in general. Limited viewership means limited money and not enough scope to explore. So we have our mythologies, fool proof and unlimited, which looks like, we cannot get enough of!…you know, tiny/teen superheroes beating up the bad demons. Doesn't matter if the quality of production is bad, TRP will do. But yes, you need variety in contents, a more sophisticated and larger audience. You need original subjects to be looking original. And I think India can have unlimited modern stories for animation, other than mythologies or folk tales. But there seems to be a crisis, can't figure why! By the way, DQ is doing another story, called Keymon Achhe which is not mytho. It's already in production. I have high hopes for that. Let's see how it does.
Do you see Indian animation ever developing a sort of "national style", or better still, some kind of an identity, in the way Japan has? If not, any particular reason?
Don't know about national style but national identity would be great to have, which can not happen overnight. I read somewhere that those large anime-eyes were actually inspired by Disney's Snow White. It also took some time for them to eke out a style that we know as anime today. And Japan has a deep history of caricatures. And manga was very popular even before animation. I think the government in Japan, like many other countries, funds to encourage the industry. Now animation is as popular as live action in Japan. And you know how different the scenario is in India.
Do you see yourself ever involved in an independent setting?
May be….some day! I dream of making animation movies for adults or grown-ups, that can have sex, violence, gore; can be dark, can be more subtle, serious and artistic.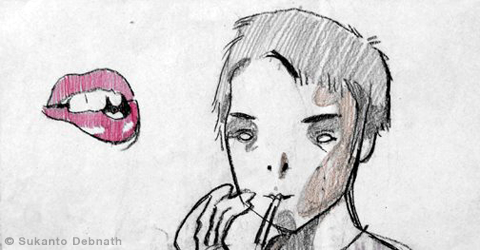 Sketches by Sukanto Debnath.
But think of the restrictions when you work for kids' channels: children can play videogames, shoot, fire guns, race cars and bikes, but Feluda can't carry his Colt 32 revolver! Ridiculous!!
Indian animation industry has been for long perceived by outsiders as an out-sourcing portal for international productions. Is the scenario changing? More importantly, has Indian animation industry's functioning as an outsourcing force in anyway affected the Indian industry?
Yes, it is changing slowly. But also, it's mainly outsourcing that helped the animation boom in India. I can see the good side only. We will only get better.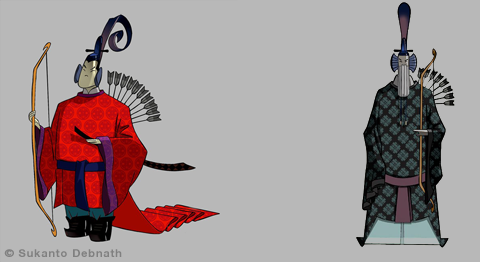 Characters designed by Sukanto Debnath.
Do you see yourself channeling your talents in other related spheres like book illustrations or design, for example, in future? We are curious!
Yes, I can consider book illustration seriously. It's more personal & direct in the sense that what I do now (concept art) is hardly seen by the public. I think through books one can connect more intimately.
© Rarh Design Studio
Images courtesy DQ Entertainment International Limited & Sukanto Debnath.